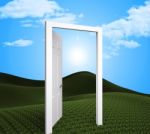 Avenue of Awareness are learning aids at the end of each post. It will enhance readers' knowledge to recognize, identify and realize issues of God, Satan, the world and yourself. It provides a gateway to God and His Word. The categories include: Reflection Road, Devil's Drive, World's Way, Personal Pathway and Lord's Lane.
Reflection Road
This section will provide an opportunity to ponder on yourself through questions asked or scenarios provided. It will offer tips to improve your walk toward the Lord.
Devil's Drive
The various ways Satan diverts, distracts, or deceives from following God's Word and His Way will be presented under this title.
World's Way
Society's beliefs are included in World's Way. It notes how the government or the world contradicts God's guidance. It will enlighten on the world's deceptions and delusions.
Personal Pathway
People love to hear stories. My intimate tales are shared. People may be able to relate or identify with them.
Lord's Lane
Scriptures are provided to research, read and study to support your journey to Lord. God's Word is the weapon against all adversity.
 A wise man will hear, and will increase learning; and a man of understanding shall attain unto wise counsels: Proverbs 1:5King James Version (KJV)