O.M.G, Oh My God, has become a popular saying, used primarily by teenager in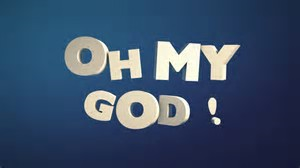 texts and communication. However, the term has gained great popularity and is being used by older populations. O.M.G is an acronym to express surprise or disgust. Though it is a common statement, accepted by most, as a humorous and harmless, reciting this expression is wrong.
The truth is, you are calling upon the name of God for no specific reason. Why would you call upon God to express your like or dislike about a lipstick color. Oh My God that lipstick color is awful.
Let's say this comment is used out of fear. Are you stating the term because you actually want the aid of God, or something that rolls from your lips out of habit? If it's the latter, you should refrain from using the term.
Thou shalt not take the name of the Lord thy God in vain; for the Lord will not hold him guiltless that taketh his name in vain. Exodus 20:7 (KJV)
Think about it. How would you feel that if someone called your name 50 times a day for no reason? Is fire and brimstone going to rain from the sky if you continue to use the term? No. However, you are expressing respect to a higher power to abstain from the saying.
There is a term that shows respect and can assist you during good and bad times. You can recite the term as many times a day, if needed. The term is O.I.T, on, in, though. The term reflects God shines On you, In you and Through you.
On me, you are asking God to cast a covering of protection upon you. In me, He is working in your mind and heart, for you to make sound decisions and perform good behaviors. And through me, His blessings will go through you to others. You will be an example of God's goodness.
When you are going to a new job and you are nervous you can recite: I will super-exceed the expectations of this job, because God shines O.I.T, on me, in me and through me.
If your finances are taking a beating, recite: My finances will super-exceed all expectations because God shines O.I.T.
You were granted an unexpected $1000.00 check. Thank you Lord for this gift. It was your blessings, because You shine O.I T.
 The Lord bless thee, and keep thee: 25 The Lord make his face shine upon thee, and be gracious unto thee: 26 The Lord lift up his countenance upon thee, and give thee peace. Numbers 6:24-26 (KJV)
Stop saying O.M.G to express your pain, strain and distain. Declare O. I. T, to pacify your pain, solve your strain and destroy your distain.