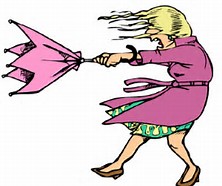 A fast runner blows by their opponents. A gust of wind can blow an object down the street. You can blow to your destiny and blow to your prosperity. As the spirit blows, so can you.
To blow means to move or run quickly; to be in motion. How do you blow to a better place? Use God's B.L.O.W method, Believe, Listen, Obey, Wait. God wants you to breeze to your destination that He has prepared for you.
Believe God exists. Today, people don't believe in God, at least not fully. They believe He may exist, but blame Him for all the horrific things that goes on in the world. They may believe in Him, but if a prayer goes unanswered, they are quick to give up on Him. And there are others who just don't believe. Today, people believe more in themselves and their self-efforts and feel there is no need to believe in a Higher Power, because they are doing just fine. In the B. L.O.W method, the first step is abandoned because of unbelief. Believe in Him. Believe in His good works. Believe in His gifts, that He offers freely (love, grace, peace, joy, etc.) Believe that He has a good plan for our lives.
… Believe in the Lord your God, so shall ye be established; believe his prophets, so shall ye prosper. 2 Chronicles 20:20 (KJV)
Listen to God. Listens means to pay attention in order to hear what is being said. To hear and understand that a message is important and serious. Distractions cause many not to hear the Word of God. There are so many other voices shouting in the mind, it is difficult to hear the correct voice. If God's Word is heard, if it makes one feel uncomfortable, something that one does not want to do, or anything that is too difficult, the message is not perceived. The second step in the B.L.O W method is not heeded because it was not heard or disregarded. Learn to tune into the station WGOD, your life will be changed.
Hear, ye children, the instruction of a father, and attend to know understanding. Proverbs 4:1 (KJV)
Obey. To do what is told of you; to follow commands, guidance or instructions. Stubbornness and rebellion pulsate in our society. Children are disobedient to parents. Employees are disobedient to employers. It appears no one wants to obey. Every man has their own plan. Stop disobeying the things that will make your life easier. Obey God's plan. He has great expectations for your life.
 For I know the plans and thoughts that I have for you,' says the Lord, 'plans for peace and well-being and not for disaster, to give you a future and a hope. Jeremiah 29:11Amplified Bible (AMP)
 Wait. To remain in a constant state until whatever is hoped or expected comes to pass. Patience is the one of the most difficult stages to achieve. People are addicted to comfort. And they want, what they want, right now. The world has contributed to this behavior, with ATM, high speed internet, fast food and other quick fix items, to wait is a thing of the past. But, think about it. There is a season for everything. Would you mow grass with snow on the ground, put a roof on a house in the middle of a rainstorm, or plant spring flowers in the winter? No, you would wait for the proper season or time to accomplish those goals. We must remember some things in life might require to wait for a particular season. The truth is, being inpatient does not bring anything any faster. It only brings frustration and anger. Learn to wait for God. His timetable is not yours.
To every thing there is a season, and a time to every purpose under the heaven. Ecclesiastes 3:1 (KJV)
Use God's B.L.O.W method and watch how fast you breeze to prosperity and more.