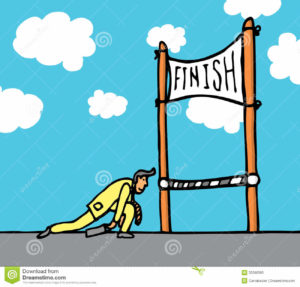 ETA is an acronym for Estimated Time of Arrival. It refers to what time you will reach your destination? The E.T.A of this post, indicates to Effort, Time, and Achievement. Simply, how much effort and time are you willing to devote to your achievement.
Let's define the terms so that you can measure your strengths and weaknesses. Effort is energy. Effort is work performed by mind or body. It is a serious attempt to do something. Time is a measurement as seconds, minutes, hours, days, years, decades and so on. Achievement is something that is accomplished through effort. It is the results of hard work. It will take time.
In ETA, there are 2 thought processes that need to addressed.
What you have is directly correlated to the effort exhibited to obtain them.
Your tests in life are connected with your weaknesses.
Starting with thought process one. If you want something, how much work are you willing to do to obtain it and keep it? In the post, I Want More, it describes the LSP (Lip Service People), the people who talk a good game and no actions and the ADI (Action Directed Individual) the doer of the game with plenty of action.
For example, you may observe people with great houses, nice cars and good jobs. Frequently, they go on exotic vacations. These people appear laid back and these accomplishments come easily. You are wrong.
You are witnessing people at their end game after all of the hard work was completed.
You didn't see how long it took for them to get their victory. For that perfect home they own, you didn't see loans they didn't get, house they couldn't afford, the money that had to be saved, or the long tedious house purchasing process. The same theory for the car. How long did they drive an old broken down cars before the opportunity came to get a new car?
And as far as the job, how long did they go to school to get the degree to get the job? Or, how many times did they work at no end jobs? Or, the jobs they constantly got overlooked for promotions?
There was plenty of hard work exhausted and the time could have been years before they achieved their biggest dreams. Because you didn't see it, you believed effort and time was not applied. Again, you are wrong.
Now, let's think about thought process 2.
You made a decision to do something, improve something or a desire to work toward something. Obstacles will occur. Tests will be triggered. Temptations will tantalize. The devil wants to retain you on a rocky road. God wants to propel you down the path of prosperity. Recognize the difference. Tests are given to measure your strength and knowledge base.
 I know also, my God, that thou triest the heart, and hast pleasure in uprightness. As for me, in the uprightness of mine heart I have willingly offered all these things: and now have I seen with joy thy people, which are present here, to offer willingly unto thee. 1 Chronicles 29:17King James Version (KJV)
Temptations are geared to entice you to perform unhealthy, immoral or wrongful acts.
There hath no temptation taken you but such as is common to man: but God is faithful, who will not suffer you to be tempted above that ye are able; but will with the temptation also make a way to escape, that ye may be able to bear it. 1 Corinthians 10:13King James Version (KJV)
In school, you may have whizzed through art and music classes. But, math and science is where your weaknesses lay. If you want to pass the class or obtain the degree, you need to work on your shortcoming. You must do whatever is needed to overcome your flaws. You may:
Complete extra practice work.
Obtain a tutor.
Receive extra help from your instructor.
This same theory applies in life. Whatever your vulnerabilities may be, you will be tested more in that area. Maybe it is difficult for you to save money, decipher tedious processes, talk in front of people, or communicate your thoughts to other people. You must begin to attack the obstacle. That is easier said than done. But, you must start somewhere.
Acknowledge your shortcomings.
Get help from experienced and wise counsel.
Listen and obey wise counsel.
Be a doer and not a talker
When obstacles come your way, and they will, practice the 4 Ps. Ponder, Prayer, Patience and Prevail.
Ponder. Think carefully about what is going on.
Prayer. Praying is one of the most useful tools to use. Go to God and ask for strength and guidance.
Patience. You will not overcome your flaws overnight. It will take time. Just don't give up.
Prevail. Conquer, win and triumph.
Exhaust the effort. Take the time. Acquire your achievements.  Pass the tests.