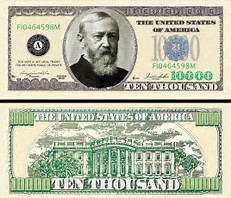 Serial numbers reveal the position on an item, especially on paper currency. To simplify and for the sake of this post I am referring to the serial numbers on money.
"Money, Money, Money"…, is taken from the song, For The Love of Money. "I got my mind on my money and my money on mind", again words taken from another song with the dealings of money.
Money is on everyone's mind, in some shape, form or fashion. It could be, you don't have any money, thinking of ways to get it, or you have plenty of money, and contemplating ways to get more of it.   
Let's keep it real, money or some form of spendable currency is needed to sustain life. The concept of money dances around in our minds often. Money is needed for transactions, such as mortgage, food, utilities, car payments, tuition, and the list can go on. Most people work to obtain money to make these daily, weekly or monthly transactions. While others allow their money to work for them.
The world keeps our thoughts on money. It reflects that money offers a good life. The ability to dress well, travel anywhere and to purchase homes; luxury cars and expensive electronic devices. Society projects money gives power and the opportunity to open doors and catapult you to areas of great success.
People get lost in the lure of money. They become ensnared with this seduction. Thinking if money was present in their life, everything would be perfect. Playing the lottery, gambling or any other quick rich schemes are created to obtain this key to happiness. Some of these plans can be legal or illegal.
The scenario above points toward the people who lacks money. What about the people with unlimited back accounts?  Don't be deceived, they have issues, as well. They may encounter problems that others cannot begin to perceive. They, too, may devise extreme strategies to keep their money and to obtain more money so they can bask in the power derived from money. Their sources can be legal or illegal.
There is nothing wrong with having money and exercising legal resources to get money. And, there is nothing wrong with being rich, wealthy or well off.
It has been preached that money is the root of evil. But researching this scripture. It actually says, For the love of money…
 For the love of money is the root of all evil: which while some coveted after, they have erred from the faith, and pierced themselves through with many sorrows. 1 Timothy 6:10 (KJV)
The devotion and dedication toward money is the true evil. Money can become seductive, tempting you to do things or causes you to commit acts that are morally wrong, or criminal. Or you become enslaved to it or is willing to do anything to get it, keep it or get more of it. The true problem occurs when money becomes a replacement for God. You love money more than you love God. Or, you don't need God if you have money. This statement becomes easy to think or say, I am nothing without money.
The pitfalls from the love of money:
Money keeps you cocky and puts you in a proud position in the sight of your peers and the populous.
And he said unto them, Ye are they which justify yourselves before men; but God knoweth your hearts: for that which is highly esteemed among men is abomination in the sight of God. Luke 16:15King James Version (KJV)
Money will dominate, if you allow it, and you will serve it and God will be cast to the side.
No servant can serve two masters: for either he will hate the one, and love the other; or else he will hold to the one, and despise the other. Ye cannot serve God and mammon. Luke 16:13King James Version (KJV)
Trusting in money offers temporary pleasure. When money is taken out of the equation, the money-minded pleasures leave.
Charge them that are rich in this world, that they be not highminded, nor trust in uncertain riches, but in the living God, who giveth us richly all things to enjoy; 1 Timothy 6:17King James Version (KJV)
When you identify yourself with money and you feel nothing without it. People will commit suicide, go into depression, or may beg, borrow or steal at any cost to keep the power of money. How do change your mind and never get to the point of saying I am nothing without money?
Remember money is a resource, something that is needed and useful, however, God is the Ultimate Source. He is the one who provides you with the power to obtain theses resources.
God hath spoken once; twice have I heard this; that power belongeth unto God. Psalm 62:11King James Version (KJV)
Money changes people. If you have money or a large sum of money comes into your life, ask God for the right direction on what, when, who and how to deal with this great blessing.
Trust not in oppression, and become not vain in robbery: if riches increase, set not your heart upon them. Psalm 62:10King James Version (KJV)
Trust God and not your money. You cannot pay your way to heaven.
…Children, how hard is it for them that trust in riches to enter into the kingdom of God! Mark 10:24King James Version (KJV)
Don't identify yourself with money. You are not the righteousness of money. Identify yourself with God. You are the Righteousness of God.
For he hath made him to be sin for us, who knew no sin; that we might be made the righteousness of God in him. 2 Corinthians 5:21King James Version (KJV)
Money attempts to control you. Lack of it or too much of it, money can keep you agitated, worried and stressed.  God gives you rest.
Come unto me, all ye that labour and are heavy laden, and I will give you rest. Matthew 11:28King James Version (KJV)
The closer you get to God and His Word. Your statement will change from,  I am nothing without money to I am nothing without God.
Chasing after money you will fall off a cliff. Chasing after God you will soar like an eagle.