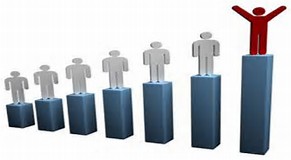 Exclusive clubs, managerial levels, educational degrees, social classes and military classifications are examples of ranks. Rank is a position in society, organization or group. People have worked hard to be able to obtain these levels. And they should be celebrated on their great feats.
Many take great pride in that attainment of a certain status. Issues arise when you feel that you are made whole with this level and without it you feel you are nothing.
Ask yourself, if you are kicked out of the club, lose rank at work, become a member of a lower class, would you say, I am nothing without this rank.  Of course, there will be a certain amount of grieving and disappointment. You worked hard to get there and now you cannot do whatever you had planned. However, if you think your life is over and there is nothing in you except what your status have accomplished you are in real trouble. You are in an identity crisis.
The world has taught and continued to teach to put your identity in a certain type of prominence. And, without that particular status or level, you are nothing. Suicide, mental health and prison time are on the rise, because some people lost some type of social or government status and believed that some grand gesture had to be made for compensation for the great loss. There are countless stories about people who lost some type of position in life and their only solution was to end their lives. They imagined they had nothing else to live for. They placed their identity in a man-made structure and it failed.
Give us help from trouble: for vain is the help of man. Psalm 60:11King James Version (KJV)
There are endless reasons why people strive to be in a high rank or statue. Most are noble. But, you must be honest and ask yourself, what are the deep rooted reasons why obtaining a prestige position is so important. Test your motives.
Does it make you feel good about yourself?
You desire for people to look up to you and praise you?
You have bragging rights to others
The pressures placed from family, friends, society or the government.
It's your chance to show the world you are someone and have achieved something.
Sometimes, people do not know why they have a drive to be in an exclusive class. It can be an attempt to fill a void, or quench a thirst with titles, positions and statuses. Sadly, you can be part of several exclusive positions in different areas of your life and have a continuous need to have more. Why?
Because God can feel that of void and make you full and whole without the whole and without the risk.
O God, thou art my God; early will I seek thee: my soul thirsteth for thee, my flesh longeth for thee in a dry and thirsty land, where no water is; Psalm 63:1King James Version (KJV)
Is there peace with the ranks you have achieved? Or, is there turmoil or a constant demand to keep this position. This does not apply to the work needed for the level, but a restlessness or an unquietness that you never quite have peace. Any achievements made with God, He takes away the burdens
Come unto me, all ye that labour and are heavy laden, and I will give you rest. Matthew 11:28King James Version (KJV)
Unleash the burden of the rank. This does not necessarily mean giving it up or to walk away. Give the burden to God. Connect with God. He will lighten the load.
 Take my yoke upon you, and learn of me; for I am meek and lowly in heart: and ye shall find rest unto your souls. Matthew 11:29King James Version (KJV)
God spirited reasons to obtain higher ranks and level levels;
Pride comes when you praise yourself for your position. Learn to praise and thank God for your rank.
 Now therefore, our God, we thank thee, and praise thy glorious name. 1 Chronicles 29:13King James Version (KJV)
Obtain higher ranks to encourage others.
 Wherefore comfort yourselves together, and edify one another, even as also ye do. 1 Thessalonians 5:11King James Version (KJV)
Teach future generations about God and through His works you can achieve anything.
6 That the generation to come might know them, even the children which should be born; who should arise and declare them to their children:
7 That they might set their hope in God, and not forget the works of God, but keep his commandments. Psalm 78:6-7King James Version (KJV)
Help others to achieve dreams.
But to do good and to communicate forget not: for with such sacrifices God is well pleased. Hebrews 13:16King James Version (KJV)
God blessed you so that you can be a blessing to others.
The generous man [is a source of blessing and] shall be prosperous and enriched, And he who waters will himself be watered [reaping the generosity he has sown]. Are blessed so you can be a blessing to others. You Proverbs 11:25Amplified Bible (AMP)
Don't be rooted and grounded in any position. Be rooted and grounded in God.
having been deeply rooted [in Him] and now being continually built up in Him and [becoming increasingly more] established [a]in your faith, just as you were taught, and overflowing in it with gratitude. Colossians 2:7Amplified Bible (AMP)