In today's world, models, athletes, actors/actresses have defined beauty,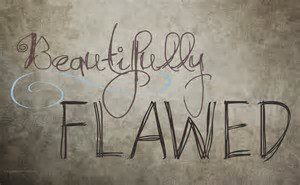 perfection and skill. Television, movies and magazines have delivered these images into our homes, businesses and into our minds. Oftentimes, we allow these representations to define who we are. The bar is set very high to meet the likeliness of these well paid icons. We know this highly beautiful, well chiseled, abundantly skilled and excessively paid individuals are not perfect. However, many strive to be just like them. When the desired expectations do not reach the levels of these modern day idols, low self-esteem and self-worth; despair and depression may occur.
Flaws are imperfections. We all have them in some kind of shape, form or fashion. Some flaws cannot be changed. You may see being short is a flaw. Center your attention on the concept that you may be short, but you have small feet, you can always get shoes in your size. You may have a birthmark in a visible place, look at it as a natural tattoo that was given to you because you are special.
Focus on the fixable flaws.
Pray to God on how to change and allow Him to guide you.
Stopping striving to be perfect. Be all that God created you to be.
Stop comparing yourself to others. Be a better you.
Don't put yourself down. Learn to be happy for who you are.
Don't dwell on the negative. Focus on your good qualities and abilities.
The world is fixated on perfection; to have the perfect hair, complexion, size, weight, and height. If you fall short of any other these things you are pressured to buy products, or perform acts to achieve these goals. Focusing on flaws, or attempting to be perfect, robs you of your peace. Because you are always concentrating on looking better, being better, acting better, being perfect, peace cannot be present.
 I will praise thee; for I am fearfully and wonderfully made: marvellous are thy works; and that my soul knoweth right well. Psalms 139:14
Peace comes when you come to terms with who you are and with all of your fallibilities and blemishes. Stop trying to be what others dictate who you should be. Remember, God does not make mistakes. And He knew you before you were born.
Before I formed thee in the belly I knew thee; and before thou camest forth out of the womb I sanctified thee, and I ordained thee a prophet unto the nations. Jeremiah 1:5King James Version (KJV)