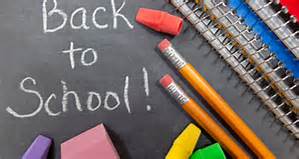 It's back to school. August is the month many students return to school. Department stores compete for the lowest prices for school supplies. Parents fuss with their young children  about the necessary educational items. While other parents peruse down the aisles of merchandise retail stores selecting items for college dorm room. Nervous, new,  high school freshmen anxiously count down the days before their first day of school. While the seniors are counting down the days before their last day. The spirit of learning is in the air. A time of preparation and planning.
Many breathe a sigh of relief that hunting for school supplies and returning to school are over. But, the reality is, the school of life never ends. The educational process is ongoing until the day of death. We learn something new, daily. How we progress in life depends on what school we have chosen to attend.
It is of the same, great importance as parents choosing the correct educational institution for their children or the young, fresh, minds select the proper university they will attend, people must select the precise higher learning institute for life. There are two major life schools, the World's Way University and the God's Guidance Institute.
This is an important tip to consider. If you choose the God's Guidance Institute, the classes taken will guide you in surviving in this world; the next world and prospering in God's good promise for your life. However, if you select the World's Way University you will barely survive in the world. If you do survive, your life will be riddled in selfishness and pride. Remember, you cannot have one foot in one institute and the other foot in the university. If you attempt to accomplish this feat you will remain unsettled and confused. Both higher learning establishments have totally different courses to partake, and the life principles conflict one another.
In the God's Guidance Institute, classes are taught by God, His Spirit and His Word. He will work with you on your mouth, mind and heart. You will learn to take a positive perspective on everyday occurrences and other avenues in your life. Reflect on this. It will never be about the problems that occur, it will always be how you react to them. And, to realize God is ready to assist you in all matters. Theses are principles you will adopt.
For the God's Guidance Institute, you must know:
God is a Spirit.
God is a Spirit: and they that worship him must worship him in spirit and in truth. (KJV)
You will take the courses in the Fruit of the Spirit:
Love
Joy
Peace
Long-suffering
Gentleness,
Goodness
Faith
Meekness
Temperance
But the fruit of the Spirit is love, joy, peace, longsuffering, gentleness, goodness, faith,23 Meekness, temperance: against such there is no law. Galatians 5:22-23 (KJV)
God loves you and His mantra: He has a great plan for your life.
 For I know the thoughts that I think toward you, saith the Lord, thoughts of peace, and not of evil, to give you an expected end. Jeremiah 29:11 (KJV)
The first two things you must know about the other university:
The devil runs the World's Way University. Why? Because he is the god of this world.
In whom the god of this world hath blinded the minds of them which believe not, lest the light of the glorious gospel of Christ, who is the image of God, should shine unto them. 2 Corinthians 4:4 (KJV)
Unknowingly, you may have taken some of his courses due to your rebelliousness.
Wherein in time past ye walked according to the course of this world, according to the prince of the power of the air, the spirit that now worketh in the children of disobedience: Ephesians 2:2 (KJV)
 In the World's Way University, you will take courses in the works of the flesh. Surprisingly, each subject matter is the opposite of the Fruit of The Spirit.
Selfishness
Unhappiness
Angry
Impatience
Harness
Evil doing
Hopelessness
Prideful
Over indulgences.
Now the works of the flesh are manifest, which are these; Adultery, fornication, uncleanness, lasciviousness,20 Idolatry, witchcraft, hatred, variance, emulations, wrath, strife, seditions, heresies, 21 Envyings, murders, drunkenness, revellings, and such like: of the which I tell you before, as I have also told you in time past, that they which do such things shall not inherit the kingdom of God. Galatians 5:19-21 (KJV)
The devil hates you and his mantra is to kill, steal and destroy.
 The thief cometh not, but for to steal, and to kill, and to destroy: I am come that they might have life, and that they might have it more abundantly. John 10:10King James Version (KJV)
God's Guidance Institute is a choice. God will always allow you to chose. He will not force you to enroll in His curriculum. However, if you do not choose God's Guidance Institute, you will be automatically be enrolled in the World's Way University.
I call heaven and earth to record this day against you, that I have set before you life and death, blessing and cursing: therefore choose life, that both thou and thy seed may live. Deuteronomy 30:19 (KJV)
What higher learning establishment will you attend? Choose your school wisely!