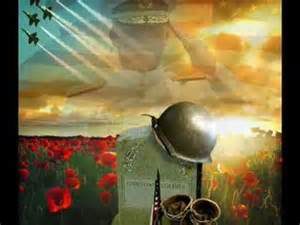 Memorial Day, originally called Declaration Day, is a national holiday in remembrance of those who died in military service for their country. Soldiers dedicated their lives for valiant causes. They fought for freedom, safety, and peace.
Let's take time to honor these brave individuals who sacrificed their lives and to the veterans who returned. Also, to express gratitude. Thank you.
Soldiers are skilled warriors, people who through training, experience, and practice, combat in the battles. Also, a warrior defines a person engaged in a type of struggle or conflict. War is a fight between opposing forces.
We all are soldiers fighting opposing forces every day.
The youth war against peer pressure, addictions, first loves and transitioning into young adults with the ever-changing world.
Parents battles are their children, aging or sickly parents, employment, and the concern if things will work out for them as well as their family.
The masses encounter opposing forces with illnesses, finances, and regrets.
Soldiers are trained and/through:
Drill Sergeants
Written and book knowledge
Practical training
Drills
How do, we, as civilians battle? The same methodology as the soldier.
A Drill Sergeant, is an officer who trains soldiers in military skills. God has given us the Holy Spirit who teaches and trains God's representatives in the skill sets of the kingdom of God.
 But the Comforter, which is the Holy Ghost, whom the Father will send in my name, he shall teach you all things, and bring all things to your remembrance, whatsoever I have said unto you. John 14:26 (KJV)
Written and book knowledge. Read and study the word of God. The Word should be included in your basic training.
All scripture is given by inspiration of God, and is profitable for doctrine, for reproof, for correction, for instruction in righteousness: That the man of God may be perfect, thoroughly furnished unto all good works. 2 Timothy 3:16-17 (KJV)
Practical training is applying what you learned in everyday occurrences.
 Therefore whosoever heareth these sayings of mine, and doeth them, I will liken him unto a wise man, which built his house upon a rock:
And the rain descended, and the floods came, and the winds blew, and beat upon that house; and it fell not: for it was founded upon a rock. Matthew 7:24-25 (KJV)
To exercise their skill sets through application and drills. Use your most powerful weapon against the enemy. The Word of God.
 For the word of God is quick, and powerful, and sharper than any two-edged sword, piercing even to the dividing asunder of soul and spirit, and of the joints and marrow, and is a discerner of the thoughts and intents of the heart. Hebrews 4:12 (KJV)
As soldiers we fight for the same reasons.
Freedom is something most people think they already have or for others something they are seeking to obtain. However, if you are deceived there is no way you can be free because you're captive in the bondage of lies and deception. Read the Word and know the difference.
And ye shall know the truth, and the truth shall make you free. John 8: (KJV)
Safety is the freedom from harm or danger. God and His Word is your refuge, delivering you from pains and suffering.
 Because thou hast made the Lord, which is my refuge, even the most High, thy habitation; 10 There shall no evil befall thee, neither shall any plague come nigh thy dwelling. Psalm 91:9-10 (KJV)
Peace is a state of mind that begins in your heart. Peace is a state of tranquility or quietness. Also, peace is an agreement to end hostilities between those who have been at war. Today, so many people are stressed, worried and overwhelmed by the activities of living. During these times, there will not be a world peace. But, through the Word, God and His spirit there is a Godly peace, a collective security during tribulations. Take hold of God's peace.
Peace I leave with you, my peace I give unto you: not as the world giveth, give I unto you. Let not your heart be troubled, neither let it be afraid. John 14:27 (KJV)
Let's take time to honor those brave individuals who have gone before us and those who are sacrificing their lives for our freedom, safety and peace.