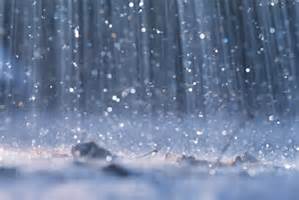 Rain, rain go away, come back another day. Children sang this popular hymn when the rain stopped their activity of play.
There are some people who think the rainy season is a soppy, problematic annoyance hindering their activities of daily living.
Farmers, because of their livelihood, view rain as a blessing, they realize the importance of rain for the growth of their crops.
In certain areas of the world, April is considered as the rainy season. It does not matter which one of the above you consider. We need rain.
Let's take a positive attitude about rain. Rain is the water from heaven. It is another one of God's precious gifts. Rain is God's way of watering the earth. We need water for all types of reasons.
We need water for:
Hydration
To quench thirst
Personal hygiene
Purification and cleansing
Growth of plants, flowers, and all greenery.
The Word of God has been symbolized by water.
That he might sanctify and cleanse it with the washing of water by the word. Ephesians 5:26King James Version (KJV)
For many of the same reasons and much more, we need the Word of God in our life.
We need the water of the Word for:
Hydration of our hearts and minds
To quench our thirst in God's wisdom, will, and ways for our lives
Spiritual hygiene to keep us clean and holy to maintain a God filled life
Purification to cleanse us from the noxious ways of the devil, the world, and evil people.
Growth of our relationship with God, family, and people
You can hear the Word of God on Sunday mornings at church. Or, maybe a 30 minute gospel program. That is great. However, drinking the Word of God should be a daily activity, throughout the day. Do you drink water only on Sundays? Do you perform personal hygiene only on Sundays? Why do you think hearing the Word only on Sundays is enough?
Reading and studying the Word is the best way to know God. Don't put it off like the children, saying rain, rain go away, I will read another day. Or, the people who think studying the Word is a cumbersome task and it is not really needed.  Be like the farmers, who realize rain, (the water of the Word) is a blessing and a way of life and is much needed.
Hydrate, purify with the Word and give life to your life and be like the tree in Psalms 1.
 And he shall be like a tree planted by the rivers of water, that bringeth forth his fruit in his season; his leaf also shall not wither; and whatsoever he doeth shall prosper. Psalm 1:3King James Version (KJV)
Tips: Start by reading the Word every day. Read a few scriptures, working your way up to a chapter. Read for quality NOT quantity. Many people are on a reading the Bible in a year regime, which is a great concept, if you are absorbing, understanding, and applying the Word in your everyday life. People get lost in the pride of their accomplishment and brag about how they are keeping on the Bible regime. But if they are questioned on what they read or how they are using the Word, they may be at a lost.
Read the Word for necessity, because it is essential to life as water.
It is the spirit that quickeneth; the flesh profiteth nothing: the words that I speak unto you, they are spirit, and they are life. John 6:63 (KJV)